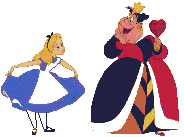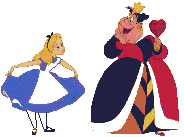 I do not remember taking any pills to make me small or another to make me bigger but confusion is my companion just the same .
I have changed over to the fabulous new type blogger , although I may look the same I assure you all is not . For a couple weeks I was trying to change the format and it would not let me as it stated "you waited to long to drag your sorry butt over ,now we don't want

cha

!....Actually it read something like they have enough and will be accepting again soon .GREAT I thought "FULL" it took me some time to figure out this as there was no direction or notice ,I found out through going into the guts of the info part of the TOUR.
And low and behold , I come online tonight (late as always) and see a note that I can change over ,with no fuss and muss and that they would even save a copy of my template for me in case , in case of what I have no idea but in case ! so I press the magic button which led me here ,where I have been tangled and weaving ever since , ,it didn't save a copy of my template , good thing I did (THANK YOU

M

E

O

W

) anyway even with the template, it ate up and made a

mockery

out of my already struggling for life BLOG . A couple hours after ,I am trying to post and the picture up- load is giving me indefinite numbers of the same picture , before I can press done it is duplicating itself , OH DEAR , But it is not me ,it is BLOGGER,this I KNOW for sure but am not sure if anyone else had this problem or if anyone Else's Blog stayed exactly the same look?This brown wrap could drive a girl ,Pink or lavender or yellow , but BROWN , it stayed the same even if everything else didn't . Well at least I have it all in place and working (she says trying to reassure herself )and hopefully when I sign in it will still be here all Brown and waiting for me .
It is 4:02 AM and I give up before I throw this keyboard over the snowbank (which is HUGE right now , we are having another storm (OH GOODY LOL)well if you don't hear from me ever again ,I am lost somewhere in blogger ville inside my computer trying to get out , wish me luck ;0)